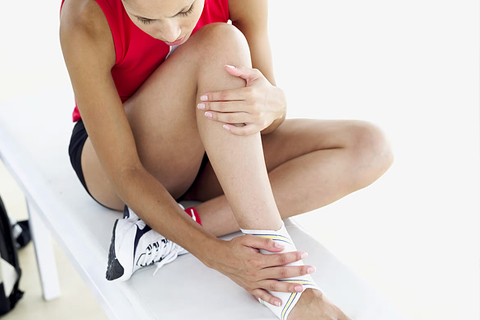 Lateral ankle sprains are one of the most common injuries that people encounter in their lifetime. Whilst profoundly common, their management may appear simple however ankle sprains can actually be notoriously difficult to treat. A recent systematic review (Doherty et al, 2016) found that 40% of first time lateral ankle sprains develop into chronic ankle instability within 1 year. The need for you to identify what an ankle sprain is, how bad it is and when to see the physio is highly important due to the potential long term consequences of these injuries.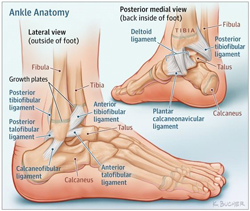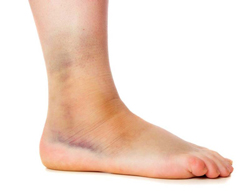 Lateral ankle sprains are the most commonly suffered ankle injuries and often occur during sports such as soccer, basketball, netball or even a night on the dance floor. There are four main ligaments that often are injured in a lateral (inversion) ankle injury. These are your ATFL, CFL, PTFL and PITL. The ATFL runs from the end of your fibular to the talus and prevents the foot from moving too far into inversion, hence why this ligament is commonly injured if you roll over on your foot, another player or even a tree root. The combination of forwards momentum and forceful outward movement under the weight of your body exposes the ligament to a high degree of tension and causes the fibres to rupture. A true inversion injury (think: rolling your ankle over the ledge of a gutter) involves lateral movement of the ankle without forwards movement and will injure your CFL. If it is quite a traumatic injury this can even cause an avulsion fracture where the origin of the ligament pulls some bone away from the end of your fibular. With big antero-lateral sprains, it is not uncommon to injure multiple ligaments. All ligament sprains, irrelevant of the grade of injury, infers a tear or rupture of some or all of the fibers of the ligaments in the ankle. This ranges from grade 1 (partial fibre disruption) through to grade 3 depending on the amount of ligament rupture. A grade 3 tear suggests complete disruption to the fibres and in severe cases can require surgical reconstruction.

Depending on the extent of the injury, all ankle sprains develop acute swelling and pain, muscle guarding and stiffness. Sometimes you may notice bruising appear on the outside or near the bottom of your foot and swelling around the lateral part of your ankle. This can be accompanied by a reduced ability to bear load through your foot and a reduced ability to move your ankle freely through the normal range of movement.


At your initial consultation following your ankle injury, firstly your physiotherapist will assess the extent of your injury, as well as determining whether or not you may need any imaging to accompany your diagnosis. It is also important to be educated on the use of the RICE principle or the potential use of non-steroidal anti-inflammatories to aid your recovery. One thing that is required throughout your ankle injury rehabilitation is learning about 'proprioception'. Proprioception is the ability of the brain to receive positive messages and helps the brain to understand what position your ankle may be in so as to help adjust a certain position or angles. Learning how to control this and training your ankle to determine what it needs to do to reposition itself and prevent re-injury makes this component of your rehabilitation highly important and cannot be missed with ankle sprains due to common risk of potential re-injury.


The first phase of rehabilitation involves soft tissue treatment, joint mobilization and taping or possibly even immobilization in a boot to settle the swelling, decrease the pain, stabilize the joint and allow you to return to normal walking gait. It's important that you see your physio regularly during this stage and is not uncommon to need to see your physio a couple times in the first few weeks to help get your swelling under control and commence some gentle strengthening and range of motion exercises to kick start your rehab. The second stage focuses on continuing to increase the range of motion in your ankle where you will be able to progress to more advanced and regular strengthening exercises, stretching and balance exercises. The third stage is focused at ongoing strengthening and injury prevention exercises, as well as returning to plyometric, running, hopping and more sports specific rehabilitation to help prevent further injury or instability you may otherwise encounter. If you're planning to return to sport, a key component to your rehab is performing multi-directional and lateral single leg hopping exercises on a variety of surfaces before returning to play or even running. One thing your physiotherapist will assess is your ability to hop AND land without stumbling before you are able to return to your sport. It is important that these components are assessed and your physiotherapist properly observes this criteria – relying on time alone is not adequate for a proper recovery.



TAKE HOME MESSAGES
1. See your physio ASAP! Whether or not you believe it to be a "simple" sprain doesn't mean that it is, you don't want to become part of the 40% that develop chronic ankle instability after an ankle injury. One of the big factors that contributes to patients developing chronic instability is premature return to sport and not seeking medical attention.
2. Complete your rehab! It's important to complete at least a 6 week strengthening program tailored to your individual needs and addressing the strength, range of motion and loss of proprioception components. Don't just stop doing your rehab because you "feel better" or you're not experiencing pain anymore.
3. Strapping and taping plays a key part of rehab, not only may it help you to feel more stable or comfortable putting weight on your ankle and returning to exercise, it plays a huge role in helping manage swelling and reduces the likelihood of you doing any more damage to your ankle. Taping can be useful in both the acute injury and the return to sport phase.



Got an ankle sprain issue that needs assessment and a rehab program?










---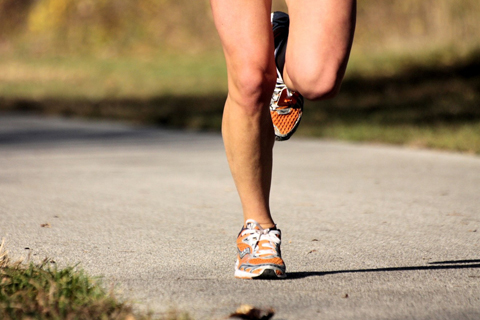 The Achilles tendon is the attachment connecting your calf muscles to your calcaneus (heel bone). Achilles tendon pain can be of an acute nature (such as strains, tears, reactive tendinopathies and paratendon inflammation/synovitis) or of a chronic nature (degenerative tendinopathies), and can affect anyone from elite athletes, to non-exercisers or weekend warriors, of any age. The most common cause of Achilles pain is an Achilles tendinopathy: an overload of the Achilles tendon leading to micro breakdown of the tendon structure itself, occasionally accompanied by inflammation. Overload typically occurs due to an increase in tendon load over the proceeding few day/weeks (walking, running, jumping, sports) that occurred too quickly over too short a time period, not allowing the tendon to adapt to the spike in loading as it would if the increases were more gradual.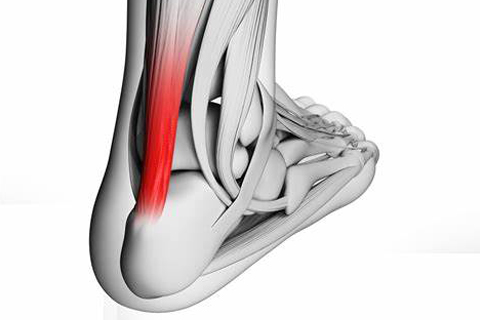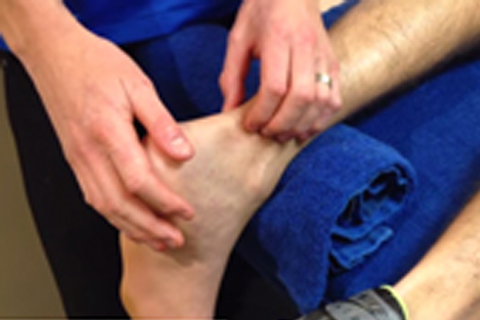 When presenting with an acute reactive Achilles tendinopathy, first and foremost we will get you to rest from all aggravating activities, usually for about 7 days. During this period, we want to unload or offload the tendon as much as possible, so we may include putting heel raises in your shoes or utilizing taping techniques. If inflammation is present ice and anti-inflammatory gels/medications will also be used. A detailed history of your loading activities will also be taken to determine why the overload occurred, so we can address this going forward in your rehab. When the acute pain and inflammation (if present) has settled (usually day 4-8), we will start loading the tendon.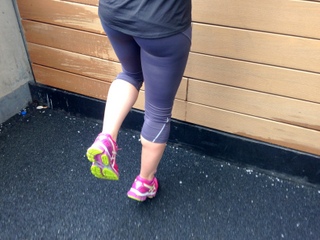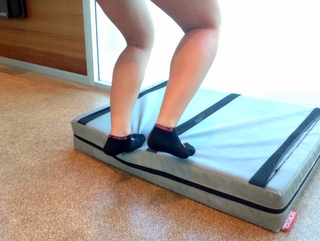 This will begin with isometrics (static contractions) – single leg if able or double leg if single is too painful – we need to get you on one leg as soon as possible to isolate the tendon. A normal application of isometrics would be 5 sets of 45s holds, with 30-45s rest periods, either once or twice a day. A combination of straight knee isometrics and bent knee (20-30 degrees) will be used to bias different calf muscles. With tendon rehab you ideally want to feel the tendon "activated" and 1-2/10 pain maximum is also acceptable. We would then progress to doing weighted isometrics, either holding a kettlebell/dumbbell or using a barbell (ideally in a smith machine). With heavy weighted isometrics the length of static holds can go down to as low as 5-10s holds, with a 1:1 work-rest ratio.

When the tendon is tolerating isometric load well we transition into isotonics (through range calf raises). We start just from the floor, but progress to doing the calf raises over the edge of a step so the tendon can work through a full range. We start the isotonics body weight and again progress to completing them weighted. With bodyweight calf raises, we would begin with 4 sets of maximum reps (to fatigue) with a tempo of 1:1:3 (that means 1 second up, 1 second hold at the top, then at least a 3 second slow lower (eccentric)). We would progress to heavy weight single leg calf raises over a step, progressing to 5 sets of 3-5 reps with the same tempo (heavy, strength focus). Once we progress from isometrics to isotonics, initially we would still prescribe daily completion, but once we progress to heavier and weighted it will most likely be every second day, to allow a day of recovery. It is important to remember to complete both straight knee calf raises (gastrocnemius bias) and bent knee calf raises (soleus bias) during the rehab process. Mix it up – do one-day straight knee, then the next day bent knee.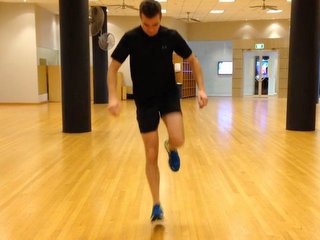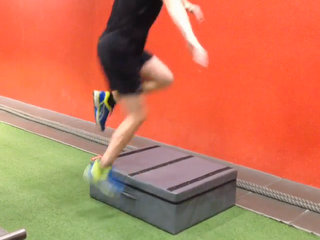 At some point throughout the strengthening process it will be appropriate to begin plyometric exercise. Tendons are basically a spring, and function with a very fast stretch-shortening cycle (energy absorption – energy storage – energy release), so we have to train them and rehab them specifically this way. This would begin with fast calf raises, where you will complete normal calf raises as quickly as possible (with control). When fast calf raises are pain free we transition to simple hopping exercises (starting double leg and progressing to single leg), focusing on short ground contact times and a quick spring action. This can be progressed from hopping on the spot, to hopping forwards/backwards/sideways, and increasing the time of the hopping set and the intensity of the hops (higher, longer). A good starting point for the first plyo sessions would be 3 sets of 30 secs. All plyo work must be pain free during and after, and appropriate recovery is needed so plyo should only be completed twice a week initially, and with 2 days' rest in between sessions. Some physios would split the plyo process up and start with energy absorption exercises (such as landing and sticking on one leg from stepping off a box). Then energy release exercises (such as single leg box jumps or horizontal bounds landing two feet) and then put it all together with stepping off a box and then immediately springing into a vertical jump.

Return to running is allowed when the patient can single leg hop for 30s pain free (during and after). Running should be done on non-consecutive days, and will progress from sub-maximal straight line jogging to eventually fast speeds and sprinting. Change of direction and cutting running will begin as planned and sub maximal and also progress to full speed and unplanned (reactive). Putting this all together (the strengthening, the plyometrics, and the return to running) is the job of the physio and he/she will guide you through the process and progress you when ready and appropriate. Tendon programs tend to fail due to incorrect loading (either too much or too little) and incorrect progressions (too quick or too slow). We will perfect this process for you and guide you on this journey. Eventually you will be cleared to return to full and normal sport, running and activities – and will usually have an injury prevention maintenance program to continue doing once a week ongoing (if needed). We will facilitate the rehab process with soft tissue therapy to the calf muscles and Achilles tendon, ankle and foot joint mobilizations, strengthening other contributing muscles and addressing your foot posture issues (with either appropriate footwear or custom orthotics) as well as addressing any other contributing factors.



Got an achilles tendon issue that needs assessment and a rehab program?




---